DENTAL MONTH IS HERE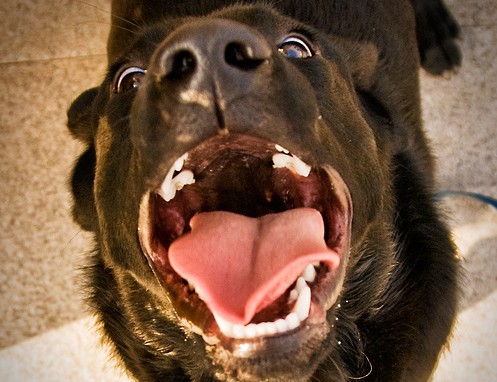 Photo credit: By josh from shanghai, china (happy to see me) [CC BY 2.0 (http://creativecommons.org/licenses/by/2.0)], via Wikimedia Commons
For the month of September we are offering free dental checks for pets! If they require any dental work then you will also receive a 20% discount off the cost of dental procedures.
WHY IS IT IMPORTANT TO CARE FOR TEETH?
Dental problems are very common in cats and dogs and it is estimated that by the age of three 80% of pets are affected by dental disease!
Dental disease often goes unnoticed by owners as pets do not show overt physical signs of discomfort until the disease is advanced. Dogs and cats are stoic and the signs of disease can be subtle but this doesn't mean it's not painful. A toothache will us humans running to the dentist ASAP! Additionally, left untreated the bacterial infection in the mouth can enter the blood stream resulting in damage to organs such as the heart and kidneys and contribute to general ill health.
WHAT IS DENTAL DISEASE?
Gum disease (periodontal disease) occurs due plaque. Plaque is a mixture of food, bacteria and saliva that sticks to the tooth above, and below, the gum line. If not removed it forms tartar or calculus on the tooth. The gum around the tooth becomes inflamed (gingivitis) and the gum pocket around the tooth deepens, eventually resulting in the ligament holding the tooth in place becoming inflamed and permanently damaged. This can lead to infection, loosening and loss of the tooth.
Teeth can also be fractured from trauma or chewing hard objects which exposes the sensitive part of the tooth (causing pain) and also can make the tooth prone to infection at the root.
SIGNS OF DENTAL DISEASE

Bad breath- bad breath is not normal and indicates the presence of bacteria in the mouth.
Bleeding or red gums
Yellow or brown tartar on teeth
Advanced disease can lead to drooling, difficulty eating and pawing at mouth
Hard to give tablets to or sensitive with touching around the face

WHAT CAN BE DONE?
We recommend regular dental checks every 6-12months and offer free dental checks in March and September to encourage this. Depending on the severity of your pets' condition we may suggest a combination of the following:
1)   Dental scale and polish under general anesthetic. In mild disease this can halt progression and allow recovery. In advanced disease it helps slow the process and extractions will be done at the time to remove teeth that are painful or prone to infection.
2)   Feeding prescription dental diets to help remove mild tartar off teeth (Hills T/D or Royal Canin Dental) and prevent the formation of more.
3)   Dental chews, such as Greenies, and chew toys, such a Kongs to encourage prolonged chewing.
4)   Daily tooth brushing with pet tooth paste: although labour intensive this is the most effective preventative as it removes plaque thereby preventing tartar formation. This is especially important for pets with established dental disease.
WHAT SHOULD I DO NEXT?
Call us to book your free dental check with a vet in September. 4779 5222 Hermit Park, 4772 1513 Bayside.